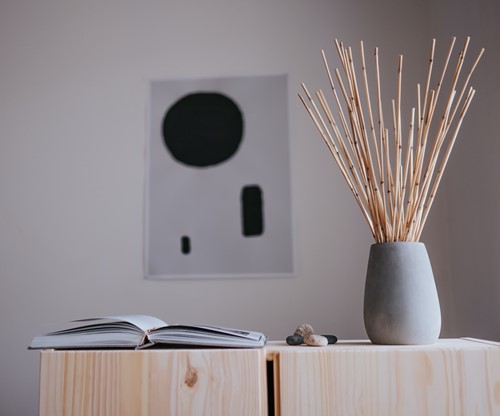 Japandi is the name of a contemporary design trend combining elements from several styles. Mostly regarded as a mix of Japanese design and Scandinavian design, the Japandi style is modern and minimalist while staying cozy. If you're interested in learning more about Japandi style, here are the basic elements to look for:
Natural Materials
Japandi style favors natural materials like stone, natural wood and concrete. While new items can fit, the design encourages reclaimed or vintage pieces with some visible wear to add depth. Rattan and wicker are excellent for smaller furniture, like stools or end tables. Jute, wool and linen are the preferred fabric materials for everything from pillows to area rugs.
Neutral Colors
Both Scandinavian design and Japanese design favor neutral color palettes. While Scandinavian style prefers light, bright colors and wood finishes, Japanese design often layers in deeper earth tones, like browns and greens. Any colors that promote calm and relaxation are ideal for a Japandi style space.
Less Is More
When choosing furnishings for Japandi design, go for quality over quantity. Japandi celebrates and emphasizes pieces that are timeless and well-built to stand the test of time and lessen environmental impact. This concept can apply both to furniture and accessories, so while you don't need to be sparse or minimalist, choose your items carefully.
Mindfulness
A major element and philosophy of Japandi style is to promote mindfulness. You want to create a space that encourages calm, relaxation and contemplation. Some prominent examples of mindful design could be a dedicated reading nook, seating that faces the garden or a spa-like bathroom with a large soaking tub.
Natural Lighting
Japandi style uses as much natural lighting as possible. Regardless of the amount or size of windows in your space, try using sheer curtains to let in soft, diffused sunlight. Mirrors on the walls are excellent for expanding the space and bouncing light around to every corner.
Open Spaces
Compared to other styles, Japanese-style furniture is typically built lower to the ground. This has the major effect of making the space look larger and more open. While you don't need to stick to low furniture exclusively, try to focus on furniture and other items that are unobtrusive. Anything to provide airflow and the illusion of extra space is perfect for Japandi style.
If you want to create a comfortable but contemporary space combining aspects of Scandinavian and Japanese design styles, Japandi is perfect for you. Keep these key elements in mind when designing your own Japandi inspired space and make it your own.