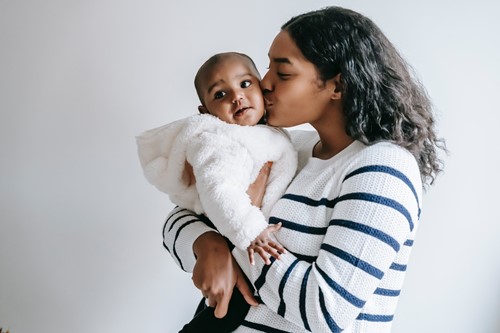 When you are waiting on baby's arrival, one of the most exciting projects you can take on is the nursery. Regardless of the theme that you choose for your little one's special space, you will find that it's easy to create DIY decor projects for the nursery.
Here are a few DIY nursery projects to consider:
Monogram Wall Art
If you have decided on your baby's name already, you can instantly personalize the nursery with monogram wall art using the baby's first initial. Whether you opt for a wooden pallet with a painted letter or a foam letter that is wrapped in yarn, you will find that this decor project makes the baby's room immediately feel like home.
Homemade Baby Gym
The nursery is not just a place where your infant will sleep, it's also a spot where they will play. While there are many baby gym products on the market, it's important to note that you can easily create your own for much less than you would pay at the store. Using PVC piping or wooden poles, you can create a simple structure for hanging a few small baby toys. Once you attach the toys of your choosing, your new baby will have a place to stretch, play and grow that is uniquely theirs.
DIY Growth Chart
Time may seem to stand still right now, but it will move quickly once your baby arrives. One of the best pieces of homemade decor that you can add to your baby's nursery is a DIY growth chart. You can finish an old piece of wood and paint it with your baby's name. Hang it on the wall, and have your child stand by it as they grow. Be sure to mark their growth and date it along the way.
Custom Nursery Garland
Nursery garland has been trending for a few years now, and this simple decor item is one of the easiest projects to take on yourself. All you need to create your own garland is string or yarn and the accessories that you want to hang. Find simple baubles or ornaments to hang on the wall or use small items such as felt clouds, glittering stars or silk flowers to add to the garland.
Handcrafted Crib Mobile
Mobiles have long been a traditional element in any nursery, and parents have included them in their decor for good reason. Young babies love to look up at the interesting mobile displays above them. You can create your own mobile using a wooden hoop, ribbons and small decorative trinkets. It's important to make sure that everything is adhered correctly and that the mobile is hung high enough so that your baby cannot reach it or pull it down.
The weeks leading up to your baby's birth can seem long and tedious, and crafting is one of the best ways to pass the time. These projects will allow you to focus on the baby while also enjoying some of the personal free time that you have right now. Not to mention, the finished project could become a special heirloom that your child saves to pass down to their own children or grandchildren.