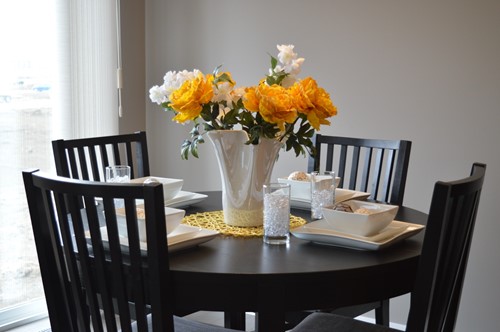 Does your dining room need a makeover? There are lots of ways you can show your personal style while maintaining a room's important functionality. If you're looking for some decorating ideas for your dining room, here are some suggestions to help:
Follow the Architecture
The best place to begin is with the design of your home. Try choosing wood styles and fabrics that mimic the existing elements in the room. For example, bring out the color of your crown molding, complement the carpet color with upholstery and choose a table shape that follows the flow of the space.
Consider Scale
As with any room, it's difficult to know what scale of furniture you should buy for your dining room. There are some measurement guides available for different tables depending on the size of the room and the amount of chairs you want to include. No matter what, keep the scale analogous to the room itself—avoid a small round table in a long, expansive room, for example.
Mix Furniture
While it's common to buy dining room tables and chairs together in a set, consider mixing it up. One easy option is to use matching chairs but a different table. If you have a long, rectangular table, try matching the two seats at each end of the table. This is an especially good idea if you're wanting to create an eclectic and comfortable vibe with your design.
Find the Perfect Rug
An area rug can make an enormous impact in your dining room. It's crucial to find the right style, shape and size of rug to go with your table and chairs, however. The best general rule to follow is to use a rug large enough for the entire table and all the chairs to be on it. This will look more cohesive in the space and avoid the annoyance of trying to move chairs over the edges of the rug.
Don't Forget Lighting
The dining room light fixture is the perfect finishing touch to your design. There are many styles of chandelier or pendant style fixtures you can choose from, no matter what your design preference might be. Opt for a fixture that creates generous ambient light without adding glare or causing a distraction. Try out multiple options in the space to see which makes the best focal point for your dining room.
The next time you want to give your dining room a stylish refresh, keep these tips in mind. Even minor changes can have a major impact on the entire space.