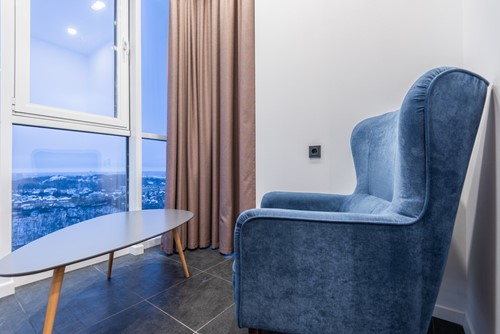 Blue and white have been a popular color combination in interior design for decades. However, it doesn't have to feel old-fashioned. There are plenty of ways you can use blue and white decor in any room, no matter the style you prefer. Here are some tips for decorating with blue and white to get you started.
Coastal blue & white
Coastal design style often features rooms decorated in mostly blue and white. You can achieve a coastal-style blue and white room by incorporating elements like distressed wood furnishings, shiplap walls and nautical motifs. A classic coastal combo is navy and white stripes, but more subtle hues like misty gray and periwinkle will create a relaxing, spa-like vibe. For a more tropical theme, add bamboo accents and pops of other bright colors like green, pink and yellow.
Bold primary colors
Decorating with primary colors isn't just for children's playrooms anymore. You can create a sophisticated and edgy blue and white space by adding in red or yellow for contrast. If the colors in your design begin to feel overwhelming, try adding black accents to ground the aesthetic. Try minimalist, modern-style furnishings and simple prints to keep the room from feeling too busy.
Cozy farmhouse
Farmhouse style typically favors neutral color palettes, but incorporating bold blue hues with soft whites can make for an inviting and dynamic space. Opt for natural wood and thick-knit textiles with a lived-in aesthetic. Farmhouse-favorite patterns like buffalo checks, plaid and pinstripes are perfect in blue and white, whether on window dressings, upholstery or bedding.