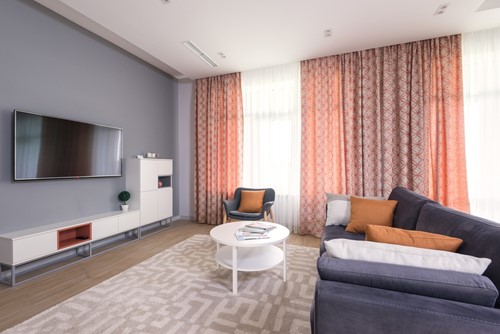 An area rug can make a significant difference in the aesthetic and feel of a room. You can add style, affect the sense of space and tie together all of your furnishings in one step. But how do you choose the right rug for the room? Everybody's taste is different, but here are the main things to consider when picking the perfect rug:
Rug Size vs. Room Size
The size of the room is the first thing to consider when choosing a rug. Most designers advise centering the rug in a room so it isn't touching any walls. That said, be careful not to choose too small a rug. A rug that's too small for the room can make the entire space feel more cramped. Instead, try to find a rug that will let you keep 10 to 20 inches of bare floor on each side.
Color & Pattern
Color is another great starting point when choosing the perfect rug. The color of your area rug will affect the palette of the entire room, so consider your existing color schemes in your choice. If you have a room with lots of color and pattern, try a more neutral or single-colored rug to ground the space. Conversely, a brightly colored or boldly patterned rug can enhance a room with lots of neutral tones.
Lifestyle & Maintenance
Practicality matters with area rugs. You want to choose a rug that will match your lifestyle in addition to your design. Think about the purpose of the room and the amount of regular traffic the rug will endure. Also consider elements like moisture, probability of stains and amount of direct sunlight. A dining room rug should ideally be easy to clean in case of food or drink spills, and a bathroom rug should be resistant to damage from humidity.
Flat-weave rugs are easiest to clean, while cushy, high-pile rugs often need professional shampooing. You can usually find all of the maintenance information for a rug on its tag, but if you want more information, you can consult a vendor or rug cleaning surface for advice.
An area rug can serve an important utilitarian purpose as well as a stylish one. Choosing the perfect rug for your space will enhance the aesthetic and your enjoyment of the room.