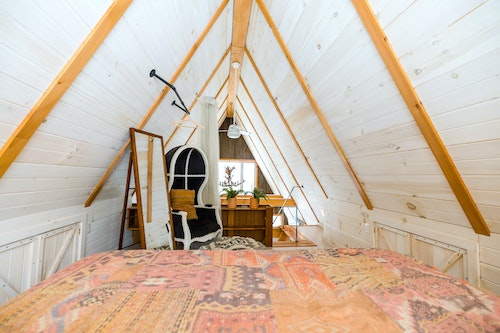 When it comes to choosing a location for a home studio, attic and basement spaces are often at the top of the list. These areas are far enough removed from the regular living space to not cause as much disturbance, while also giving you the unique opportunity to utilize a previously useless space.
However, an attic home office or attic studio can pose some interesting design challenges. If you're interested in setting up a studio in your attic, here's what to know:
What is an attic?
An attic is the area in a house between roofs on the higher floors in a home. Usually attics have insulation and occasionally heat and cooling equipment too. Unfinished attics usually require adding electrical wiring, drywall and flooring to become livable.
How to build an attic studio
If you're lucky, your attic might already have flooring, windows and wiring installed. If not, you'll need to begin with a basic "finishing" remodel.
Before you begin working, have a contractor inspect the space. They will check for adequate ceiling heights, escape routes and other structural safety factors. This will also help you if your local building codes require a permit before remodeling.
How to work with an angled ceiling
The most iconic and charming aspect of many attics is a steep, angled ceiling. However, this feature can also make an attic space tricky to decorate. Some great tips for building an attic office space or studio include:
Opt for custom storage solutions and shelving that work with the ceiling shape.
Install blinds or screens for skylight windows to control the amount of natural light.
Choose low-profile furniture to accent the space without making it feel cramped.
What else can you do with a small attic?
In addition to a studio or home office, a small attic can serve a variety of purposes. You could convert an attic into a dream walk-in closet, a craft room, a miniature library or a playroom for kids. If you like houseplants, a sunny attic room can make a perfect indoor greenhouse space.
No matter how you decide to decorate your attic, these tips and ideas will help you get started on the right path.